Milwaukee Electronics' Operations Manager Terry Martin, Senior Director of Business Development Scott Pohlmann and Design Services Group Engineering Manager Larry Holten recently represented Screaming Circuits at the Badgerloop Pod Reveal Event in Madison, WI. Screaming Circuits is one of many sponsors of this innovative engineering project and has provided prototype circuits.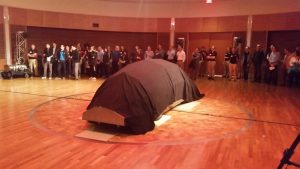 BadgerLoop is a student organization created to represent UW-Madison in the SpaceX Hyperloop Pod Competition. The competition seeks to innovate transportation with Hyperloop, an idea presented by SpaceX and Tesla Motors co-founder Elon Musk in 2013. Hyperloop transportation involves pod-like travel down a vacuum tube at high speeds. Badgerloop's ultimate goal is to win the competition, but more than that, to help lay the groundwork for this innovative new transportation technology.
The Badgerloop team revealed their pod on Dec. 6, at the Wisconsin Institute for Discovery to eager transportation enthusiasts, including University of Wisconsin-Madison students, industry sponsors and community members, in preparation for the SpaceX Hyperloop competition this coming January.
The free event featured multiple aspects of the transportation pod, including displays of its motor, software components and magnet arrays. Representatives from many of Badgerloop's 19 teams displayed and explained their work on the prototype, demonstrating that Hyperloop is more than a transportation dream.
Last January, Badgerloop placed third at Design Weekend, the initial phase of the Hyperloop pod competition sponsored by SpaceX. Badgerloop was the only team comprised primarily of undergraduate students.
In January of 2017, Badgerloop will attend competition weekend at SpaceX headquarters in Hawthorne, California and test their pod on SpaceX's mile long test track.