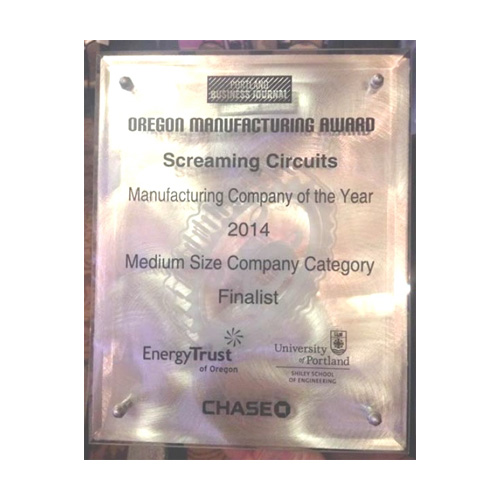 The Portland Business Journal has recognized Screaming Circuits as an Oregon-based electronics manufacturing company who truly stands out not only within the industry it serves, but also in the city of Portland that it calls home. On October 30th, 2014, a team of seven Screaming Circuits representatives from the Northwest PCB assembly location attended the annual Oregon Manufacturing Awards ceremony to receive the award and celebrate with members of the 13 other winning businesses from the area.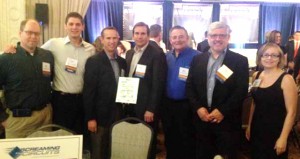 Having been judged on "driving the region's economy through innovation and strategic evolution," the Screaming Circuits team received the "Excellence Overall" award in the Medium Company Category, and was the only electronics manufacturing services-related company in the group of other Portland-based manufacturers at the event.
Offering innovative alternatives and doing business differently than other US-based electronics contract manufacturers is a strategy that Screaming Circuits and it's parent company Milwaukee Electronics have relied upon from their beginnings. With the award, The Portland Business Journal recognizes these endeavors and honors our team as one of the winners who deserve to be acknowledged for being a leader in their field.
Screaming Circuits is centered on a platform of reinventing electronics manufacturing in North America. By offering fast online quoting and customer-focused support options plus rapid turn-times and no-strings short run production, our team continues to stand out against other manufacturers. Prioritizing small volumes while making the prototype and PCB assembly quote, documentation, and ordering processes as easy as is possible are the key elements to this success. Through a progressive mode of distribution, Screaming Circuits creates a simple way for professional and DIY electronics engineers to gain affordable access to prototypes and small volumes of fully assembled PCB's, helping those who need a fast manufacturing option to meet their tight deadline.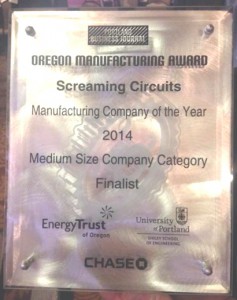 A job well done to everyone on the Milwaukee Electronics and Screaming Circuits teams who work hard every day for our customers – you make awards like this one possible!