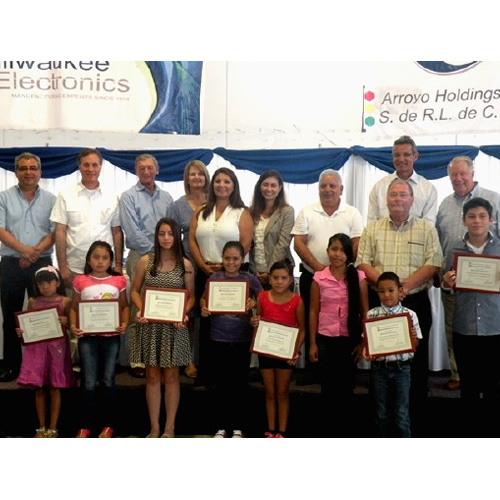 Several months ago my wife Susan and I had the pleasure of traveling south of the border to attend an important event that has become an annual tradition in our Tecate, Mexico facility. The purpose of this very special celebration, known as 'Education Day', is to commemorate those who have made significant strives for the pursuit of personal betterment through achievements in education.
This year's event held a greater significance when compared to those of previous years, because participation has now expanded to include all three companies who share our Tecate electronics manufacturing campus.
Here in the United States, our system of education provides students with publicly funded learning opportunities from grades 1 through 12. In Mexico however, after the 10th grade, publicly funded education stops. This means that if an individual wants to further his or her education beyond the 10th grade, their only option is to attend a private school and pay for it themselves.
Most people in Mexico, after finishing grade 10, either begin working or start the process of raising a family. In order for a student to continue with additional levels of education requires them to make a high degree of commitment of their time, energy, and personal resources. Education Day pays tribute to those people who have made such a commitment – and presents them with a special honor for having done so. This year, close to 100 adult employees who work on our campus attended the ceremony and received a gift for their educational efforts. It was uplifting and gratifying for me to see so many employees interested in bettering themselves through further education.
Additionally, the children of all employees get a special opportunity to be recognized for their own achievements. Parents within all three companies are given the option to submit school report cards for their children – in order to determine who has achieved the highest grade point average compared to all others within their grade.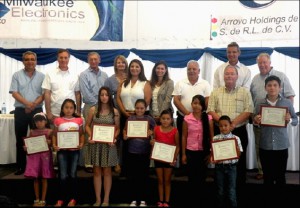 The child with the highest score for their particular grade is applauded and invited to the front of the stage to receive an award, a new pair of shoes, a backpack with school supplies, and money to purchase a new school uniform. These students truly were a very impressive group, and they also very much deserve to be honored for their dedication and hard work.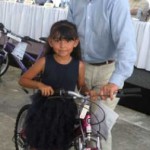 To culminate the event, a drawing was held between all of the kids in attendance which awarded a new bicycle for each of the lucky winners.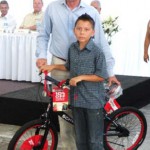 Several Tecate government officials were among those who attended – including the mayor of Tecate. The mayor, Susan, and I were all honored to pass out the awards and commend each individual for their achievements. I am very glad to have taken part in the event, and am also really looking forward to the next Education Day as well. A special thank you should be given to Letty & Pirouz Pourhashemi, for helping to organize the event and for their combined efforts towards improving the educational opportunities of our workforce. Congratulations to all of the employees within the three companies who participated in this very enjoyable day, and to their children, for having the determination and intelligence to reach their educational goals. You should all be very proud!
P. Michael Stoehr
President