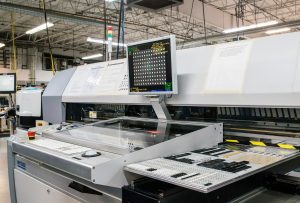 Over the last quarter, Screaming Circuits has upgraded the hardware and software on all its Mydata equipment.
"Since we created Screaming Circuits, MyData machines have been an important part of our formula for success. As we integrated a MY12 into one of our production lines, we saw the opportunity to make upgrades across all our MyData lines and standardize them," said Ashley Rochholz, Screaming Circuits' Manufacturing Manager.
The upgrades included new cameras providing improved optics on all machines, software revision level upgrades, new hard drives and a new server.
The optics are particularly important be-cause as a quick turn prototype house, Screaming Circuits must deal with a wide variety of component styles and packaging types. Not all received material places well. The upgraded optics are identifying issues faster and providing more detailed error codes, which decreases the time needed to correct the issue. The new server has reduced programming and offline setup time.
The addition of the MY12 has also enabled the team to increase throughput.
"With the addition of this machine, we were able to take an older MyData ma-chine offline. We are now using it to experiment with offline setup strategies, while the MY12 has provided some nice efficiency gains," added Ashley.
Ashley estimates that overall, the improvements have increased efficiency by 140 percent.