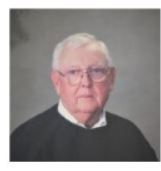 It is with great sadness that we announce the passing of Arthur W. Cannon on August 7, 2020.
Art Cannon was the Founder of Milwaukee Electronics' longest and highest performing Sales Rep firm, Cannon Associates. Art was a visionary that built his company to what it is today, with the same team he put into place more than 25 years ago.
In the early days, Art and our Founder & CEO, Mike Stoehr, built a significant book of business. Many of the relationships that resulted from those efforts are still in place today.
Milwaukee Electronics has lost a family member in Art Cannon. His spirit, work ethic and business stories, with his life experience will be remembered fondly by both the Cannon Assoc, and Milwaukee Electronics families. Art has left an indelible mark on our company and we join our partners at Cannon Associates as we endeavor to carry on his legacy.
We take this opportunity to honor Art's contributions since our relationship began in 1994. More than that, we thank him for creating a partnership that will last long into the future.
Very Sincerely,
The Milwaukee Electronics Family