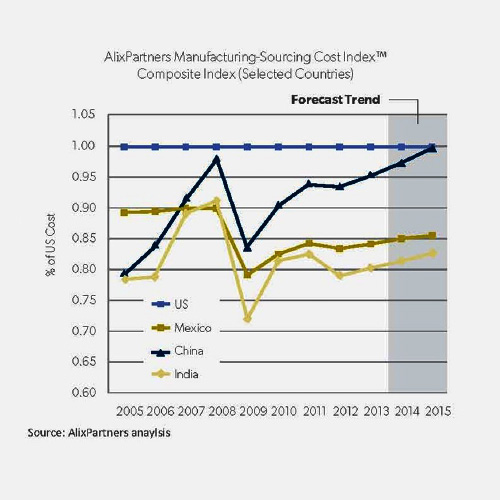 Several years ago, in 2012, a tipping point was reached in Mexico's competitive advantage over Chinese-based manufacturing operations. Research released by the Boston Consulting Group (BCG) shows, when adjusted for productivity, Mexico has now clearly taken the lead and is significantly more affordable than China.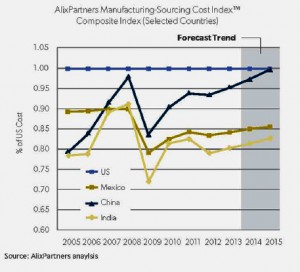 As part of BCG's ongoing "Made in America, Again" series which focuses on the changing global economics of manufacturing, this research has allowed BCG to project that the average total manufacturing cost advantage in Mexico will stretch to around 6 percent over China, and around 20 to 30 percent over Japan, Germany, Italy, and Belgium – by 2015.
Two of the key drivers for this growing competitive edge over Asia are: Mexico's considerably shorter supply chains due to its proximity to U.S. Markets, and its comparatively low labor costs. Furthermore, Mexico has signed 44 free-trade agreements that allow for many exports to enter the world's major economies with few or no duties to pay. Recent research performed by AlixPartners and Bank of America also displays this trend, and further illustrate the favorable gains to Mexico's overall position as a competitive North American manufacturing option.
However, this brings up an important question. Do the individual regions within Mexico offer equal levels of this cost advantage, when compared to the other regions of the country? As it turns out – just as original equipment manufacturers (OEMs) should evaluate their electronics manufacturing services (EMS) suppliers carefully – likewise there are some important considerations to evaluate when choosing the best region in Mexico to conduct business in order to determine the best fit for a project.
For the medium-to-high volume customer base which Milwaukee Electronics serves, a key reason for the selection of Tecate as our primary electronics contract manufacturing location in Mexico is centered around the ideal mix of advantages it can offer:
Simplicity in Logistics – Tecate provides a convenient port of entry option which is significantly less congested than other border crossings, and is only 40 miles from the city of San Diego. This grants Milwaukee Electronics' Mexico-based electronics assembly team the ability to support a high level of responsiveness in production of variable demand projects.
Secure Facilities – A professional contract security team limits access to employees and authorized visitors within the gated industrial campus that houses the electronics assembly facility.
Workforce Stability and Experience – Employee turnover is less than 2% per month. Over the course of a decade, Milwaukee Electronics has put together a team of highly skilled personnel and a responsive electronics contract manufacturing operation in Tecate.
U.S. Border Proximity – Tecate's neighboring location with California makes it especially easy for visitors to commute from nearby San Diego. Among key technical and management staff, English proficiency rates are high. Furthermore, holiday schedules align with U.S. holidays.
Socially Responsible Employer – Your contractor is an extension of your reputation. Milwaukee Electronics is serious about taking a high level of corporate responsibility within all of our electronics contract manufacturing facilities and operations through fair and respectful treatment of employees, and a responsible approach to environmental impacts.
Facility Optimized for Electronics Production – As the activities of each customer evolve over time, Milwaukee Electronics' specifically-designed PCB assembly facility in Tecate, Mexico was built to support a changing business mix with an efficient electronics production floor that enables flexible and labor-saving production line arrangements.
Tecate provides significant cost advantages without the disadvantages of labor market shortages which can typically be found in the larger Mexican manufacturing cluster zones. For customers who wish to visit the factory, the close proximity to San Diego makes it a convenient travel option.
Through making key investments for improving the lives of all staff, and enhancing facility infrastructure while providing benefits and amenities to employees, Milwaukee Electronics' efforts have led to one the lowest turnover rates in Mexico. For companies looking tap Mexico's increasing cost competitiveness while avoiding the 'hidden costs' of outsourcing in Mexico's more congested manufacturing regions, Milwaukee Electronics' Tecate EMS outsourcing facility represents an excellent choice.